Rockstrata is undoubtedly the pioneer of Bangladeshi heavy metal music. This image probably taken in the late 1980s captures (from the left): Arshad Amin (Bass), Mainul Islam (Guitar), Shoaib Rahman (Vocals), Imran Hussain (Guitar). The drummer Mahbubur Rashid is not seen in this picture because he is behind Imran (far right). I can see a glimpse of his drumstick, though. The formation of Rockstrata reflects the similarity of the band of Prince. I can imagine Arshad (far left) representing Dez Dickerson, Mainul taking the role of Freddie Mercury, Shoaib Rahman perfectly matching Prince, and Imran standing for Brian May. What a match! These electrifying kids appear to be our home-made local gun powder! Who can beat them?
Rockstrata was incepted and formed in 1985 by two adventurous school-going kids, namely Mainul Islam and Imran Hussain, both were the students of St. Joseph High School (Dhaka) at that time. The drummer Mahbubur Rashid came across the name Rock Strata from his Geography book while studying for his SSC exam. Other members liked the name. Hence, Rockstrata was formed. The most members of Rockstrata later became the students of Notre Dame College. Within one year of its formation, there was a social event at Notre Dame College in 1986 where Rockstrata performed their first public show on the stage. Oops, there was a hiccup! As soon as the band started to play a few songs, Joseph Peixotto, the Principal of Notre Dame College, came running on the stage, was furious, and stopped the show immediately. That was the rocky start of Rockstrata!
The band had two major problems to tackle although these were beyond their control. First, heavy metal was not very popular like pop music in Bangladesh at that time. Second, heavy metal music generates loud sound. Rockstrata struggled to find an appropriate location to practice; they often had to move from one place to another. The most remarkable aspect is that these youngsters had enough courage as well the zeal to weather out all those odds. They tried their best to succeed.
Rockstrata lasted for seven years (1985-1992), and it produced only one album called "Rockstrata" (1992). The band re-emerged in 2011 and released their second album "In the Search of New Taste" in 2014. Rockstrata is still active today. Best wishes to this highly charged band.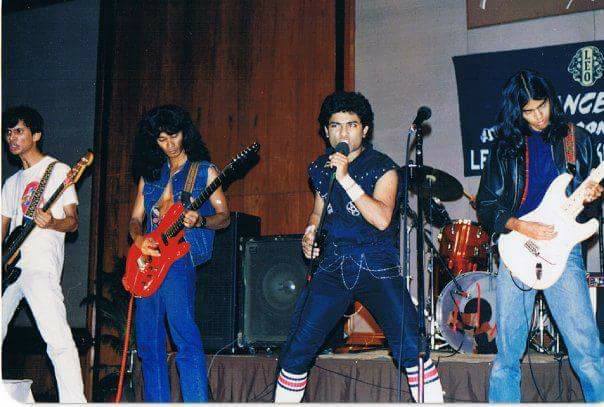 Photo (1980s): Bangladesh Metal Muzic Magazine
Source: The Daily Star (01-10-2018)