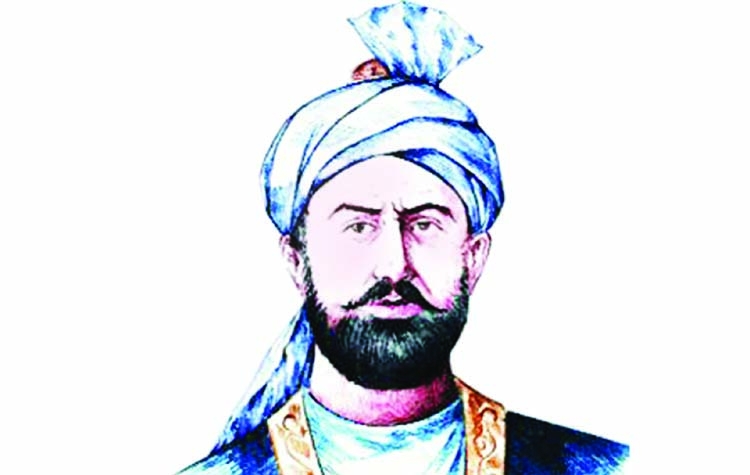 Isa Khan was born in Sarail of Brahmanbaria in 1529 to the daughter of the Sultan of Bengal Giasuddin Mahmud, Syeda Momena Khatun and Solaiman Khan, Diwan under the Sultan, who later got the Zamindari of Sarail.
Following the death of Sultan Giasuddin Mahmud, his son-in-law Solaiman Khan declared him as the legal successor and revolted against the newly established Afghan rule. During this period, he was ruling the southern region almost independently from the centre of his administration at Sarail.
Son of Sher Shah, Islam Shah inherited the throne of Delhi after his father's demise. He came to Bengal on some adventurous pursuits and settled in the coastal region of Bhati, which is now known as Noakhali. In course of time, he asserted himself as the overlord of the region and took steps for bringing Bengal under the control of a single administrative apparatus.
But when Solaiman Khan refused to accept the dictates of Islam Shah, the latter sent two of his generals Taj and Daria Khan against Solaiman. Solaiman Khan built up a strong resistance against them. But ultimately he was defeated and slaughtered; his two sons Isa and Ismail were taken captives and then sold off as slaves to Iranian traders.
Taj Khan Karrani became the ruler of Bengal and Bihar in 1563 AD. Isa Khan's uncle Kutub Khan became his beneficiary and got employment in his court. At this time, he searched for his lost nephews far and wide till Isa and Ismail were found and rescued from the Iranian traders in exchange for money. The two ill-fated brothers were then finally brought back home to Bengal.
On his return home, Isa Khan got the Zamindari of Sarail with the help of his uncle Kutub Khan. Following the death of Taj Khan Karrani in 1565, Isa Khan extended all help to the Afghan rulers in facing the Mughal onslaught. He did not just step into someone else's shoes but fashioned them himself. Isa Khan ruled Bengal like he was always meant to.
In 1573, Isa Khan assisted Daud Khan in his Chittagong campaign against the Tripura King Uday Manikya. Helping the commander of Daud Khan's forces in ousting the Mughal flotilla from areas adjacent to Sonargaon, he was victorious in battle at sea in 1575.
Isa Khan, a man born and bred in Bengal knew her waterways so well that he could run across them with his eyes closed. He breathed in the scent of impending doom and with nearly half the manpower and battleships compared to that of the enemy, he used his knowledge of the waterways to his advantage. Isa Khan saved Bengal from plunder.
What effectively signaled the end of Afghan rule in Bengal was the defeat and death of Daud Khan in the battle of Agmahal in 1576. At this juncture, Isa Khan was running his domain almost independently.
In 1580, the Zamindar of Sarail, Isa Khan, sent one thousand labourers as a return gift of the alliance to the Tripura King along with other Zamindars of Bengal. He also fought against the Zamindar of Taraf, Fateh Khan in 1581 as the Naval Commander of Amar Manikya, the Tripura King. This is where we see how much Isa Khan valued loyalty and friendship. To someone who once helped him, he returned a thousandfolds. He never let debts remain unpaid.
The intelligent Isa Khan continued to assemble his forces in East Bengal by taking advantage of the revolts by Mughal commanders against Emperor Akbar in 1580. He declared himself as the ruler of the southern region in 1581-82 and received the title of 'Masnad-i-Ala'. Isa Khan shifted his administrative centre to Sonargaon from Sarail. He built resilient fortresses at Katrabo, Kalagachhia and Khizrpur near Sonargaon.
After realizing which party had the better intentions and ammunitions, Masum Khan Kabuli and Katlu Khan, two rebel commanders of Akbar joined hands with Isa Khan. For providing sanctuary to the Mughal Commanders, Akbar appointed General Azam as the Subedar of Bengal and ordered a campaign against Isa Khan.
In 1584, the persistent Mughal General Shahbaz Khan once again conducted a campaign against Isa Khan. The vast area of Dhaka, Bikrampur, Sonargaon and Katrabo became home to the battlefields. And triumphantly keeping the Mughals at bay, Isa Khan had successfully established his authority over almost the whole southern region. He then set up his capital at Katrabo on the bank of Lakhya River.
In 1586, Isa Khan defeated the chieftain of Jangalbari. In the same year, Mughal Subedar Shahbaz Khan again sent his forces to the South. This onslaught by the Mughals also turned out to be futile due to the resilient Isa Khan's clever tactics of battle. For the next ten years, the Mughals did not dare disrupt the rulings of Isa Khan.
In 1588, Isa Khan faced Chand and Kedar Roy in battle near the existing Sonakanda mart on Lakhya River and achieved victory seamlessly.
In 1595, Raja Mansingh came to Bengal after getting appointed as the Subedar of Bengal. He took preparations for running a crusade against Isa Khan. In 1597, Mansingh sent two forces against Isa Khan both on land and water. The Mughal forces led by Mansingh's son Durjan Singh on land, achieved some success initially.
Emperor Akbar could not establish his authority in the southern region of East Bengal during Isa Khan's lifetime. And protecting the golden lands of Bengal, Isa Khan wrote his legacy. He transformed the region into an independent kingdom by establishing his authority over the large areas.
In September 1599, Isa Khan passed away in Katrabo. He left behind five sons and most of them, their sons and grandsons left abiding marks of fame in the later history of Bengal. But Isa Khan dedicated his entire life for the betterment of Bengal. He fortified Bengal from the hands of the Mughals, who tried to plunder Bengal's wealth to Delhi in the name of ruling.
The Mughal's  vile conquest to conquer Bengal was met with Isa Khan's determination to protect her. He was a true hero and generations after generations of people are proud to have such an inspiring historical heroic representation's name etched in the blood of Bengal. Isa Khan was, is and always will be one of the core characters of glory in the heart of Bengal.